Working out and staying healthy despite our busy lives do not need to be expensive nor time-consuming. One of the most common excuses of people for not working out is that they do not have the time to dedicate to the task. It does not have to be so because there are simple ways on how you can squeeze in workout time even without leaving your home or office.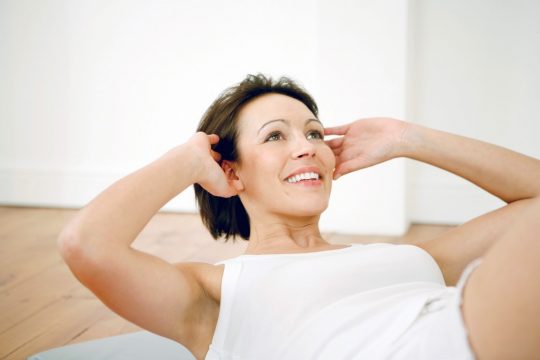 Running a business may make you a busy person but it should not be an excuse not to get busy exercising. You can sneak in a few minutes out of your time to do some exercises right in your place of business. Take out an exercise mat to ensure you do not slip and change into simple workout clothes to keep your business attire clean and sweat-free. If that isn't doable, you could simply bust out a few moves as you go through your day. Make a list of the things you do every day, and then figure out how you might be able to add some physicality into it. Do you take the elevator up to your floor every day? Take the stairs. Do you spend hours sitting at your desk? Sit on an exercise ball or do a squat as you're reading an email. Are you on the phone a lot? Walk around while you're at it. Put them all together, and it all adds up to the equivalent of some awesome gym time. And if that isn't enough to convince you, getting your heart rate up while you're working increases blood flow to your brain, providing nutrients and much-needed oxygen. This chases out the cobwebs and gets those cogs up there cranking and turning, which gives leads to more enthusiasm, better ideas, wiser decisions, all of which are good for business. Plus those endorphins make you calm and happy, and that's a good thing too.
There is no need to go to the gym or even outdoors to walk or run. If your business office is cluttered, you can clear some space on the floor to start exercising. A few minutes of your time will not take you away from running your business venture or from earning profits. The best thing about working out in your office is that you can carry on managing it while still staying on top of your workout game.
We have formulated an interesting chart of top exercises that busy business owners like you can do. These exercises are so simple you do not need too much workout equipment to do them. And the best thing about them is you can do them anytime of the day.
You can see the chart here. Happy exercising!

CHECK OUT THESE HEALTHY APPS
12 Min Ski Workout Challenge PRO – Fit for slopes – Cristina Gheorghisan

$

0.99

Winter is coming! Get ready for the slopes with this awesome 12 MIn Workout Challenge! The Beginner ski workout aims to focus on overall body strength and stability while controlling movements to train muscles with correct technique. It allows the body to adjust safely in a slower motion and introduces balance along with proprioception into the physical routine which are essential skills to have when transitioning to a snowboard. Ski season's here and tons of resorts in the Rockies are loaded with snow, so it's time to dig out your snowpants and rally your friends to book your annual ski trip. But while he runs are surely ready, are you? Even if you work out daily, skiing for four or five days can be ultra taxing on your muscles. Trust us. To avoid injury and misery, take some time to prepare your body before your trip. If you don't already have a regular exercise routine, it's not too late to start one. Plus, knowing you're doing it in order to enjoy your ski holiday will help keep you motivated. Start at my Beginner's Corner for general information about getting started with exercise. If you already exercise, you may need to tweak your workouts to make them more effective. Build Your Endurance If you want to get your money's worth out of that expensive lift ticket, you'll need plenty of cardio endurance. Most of us hit the slopes and plan on skiing all day, even if it's been months or years since we last skied. By afternoon, you're so tired that your legs feel like jello, a prime time for injuries and accidents happen. To prepare your heart and body for long-term skiing, your cardio program should include: 3 to 5 days each week of your favorite activity. The best for skiing include running, the stairmaster, step aerobics, elliptical trainer and rollerblading. A variety of workouts at varying intensities lasting from 20 to 45 minutes. One long, slow workout each week for 60 or more minutes to condition your legs and lungs for long days of skiing. Below is a sample schedule of workouts: Workout 1: Interval training, such as this Elliptical Interval Workout, 20 to 40 minutes Workout 2: Medium-pace workout, 40 minutes - Cardio Medley Workout Workout 3: Short, intense workout, 20-30 minutes - Sprint Interval Workout Workout 4: Medium-pace workout, 45 minutes - Basic Endurance Workout Workout 5: Long, slow workout, 60+ minutes For cardio workout ideas, visit my Cardio Index. Build Your Strength What makes skiing such a great exercise is that is uses all of your muscle groups. However, some muscles are used more than others. Those are the ones you want to concentrate on when it comes to your strength workouts. Skiing involves: Quadriceps. Probably the most used muscle in skiing are the muscles of the quads. These muscles hold you in position as you ski and they also provide protection for your knees. Great exercises for the quads include squats and lunges. Hamstrings and Glutes. When skiing downhill, you typically hold your body in a flexed position -- meaning you're leaning forward from the hips. This requires great strength from your hamstrings and glutes as they help stabilize your body. Work your hams and glutes with deadlifts, one legged deadlifts, pull throughs, step ups and hamstring rolls. More hamstring and glute exercises. Inner and Outer Thighs. Your inner thighs work like crazy to keep your skis together. Your outer thighs keep your body stable and help you steer. Work these muscles with side lunges, sliding side lunges, inner thigh leg lifts, inner thigh squeezes, side step squats and leg lifts. Calves.