Working out and staying healthy despite our busy lives do not need to be expensive nor time-consuming. One of the most common excuses of people for not working out is that they do not have the time to dedicate to the task. It does not have to be so because there are simple ways on how you can squeeze in workout time even without leaving your home or office.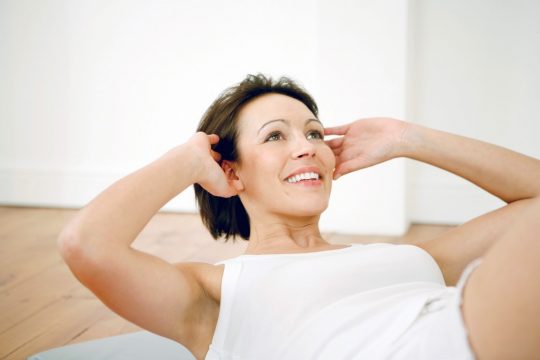 Running a business may make you a busy person but it should not be an excuse not to get busy exercising. You can sneak in a few minutes out of your time to do some exercises right in your place of business. Take out an exercise mat to ensure you do not slip and change into simple workout clothes to keep your business attire clean and sweat-free. If that isn't doable, you could simply bust out a few moves as you go through your day. Make a list of the things you do every day, and then figure out how you might be able to add some physicality into it. Do you take the elevator up to your floor every day? Take the stairs. Do you spend hours sitting at your desk? Sit on an exercise ball or do a squat as you're reading an email. Are you on the phone a lot? Walk around while you're at it. Put them all together, and it all adds up to the equivalent of some awesome gym time. And if that isn't enough to convince you, getting your heart rate up while you're working increases blood flow to your brain, providing nutrients and much-needed oxygen. This chases out the cobwebs and gets those cogs up there cranking and turning, which gives leads to more enthusiasm, better ideas, wiser decisions, all of which are good for business. Plus those endorphins make you calm and happy, and that's a good thing too.
There is no need to go to the gym or even outdoors to walk or run. If your business office is cluttered, you can clear some space on the floor to start exercising. A few minutes of your time will not take you away from running your business venture or from earning profits. The best thing about working out in your office is that you can carry on managing it while still staying on top of your workout game.
We have formulated an interesting chart of top exercises that busy business owners like you can do. These exercises are so simple you do not need too much workout equipment to do them. And the best thing about them is you can do them anytime of the day.
You can see the chart here. Happy exercising!

CHECK OUT THESE HEALTHY APPS
Overcome – Bulimia Management – Rodrigo Blanco

$

1.99

Overcome keeps track of binge eating and purging habits for recovering bulimics by giving them daily tips and motivational texts. We believe that everyone can grow and overcome anything through perseverance and guidance. We believe in taking things into your own hands, but also believe that, to truly overcome a habit, one must take things slow and steady. That is why we created this app to give a daily mindful motivational reminder and tip so that you can start your healing process in a soothing and straight way. How does Overcome work? App features: Daily Tips: The date the user first opens the app will start the counter to determine which of the 101 tips the user will see. From there on, the app will showcase a different tip depending on the date. Counter: The app has a counter of how many days the user has gone without purging and displays it on the home page. Settings Page: includes notification settings, audio muting and date input. Mood Page: it lets the user pick their current mood of the day by pressing one of the five buttons on the top of the page (great, good, meh, bad, awful). PLUS: Once the user has selected their mood, the mood is stored as the mood of the day. This information is then displayed at the bottom of the page and showcases a graph of your mood trend in the last 7 days. Goals Page: it displays the number of days until a goal is completed and the reward inputted for that goal. The user can edit the reward by clicking the text. Once the goal is achieved, the user gets a push notification. Share Button: It has a share button to share text, tips, days sober and goals achieved on social media. We have no server functionalities; meaning all content and media are natively stored in the app. This means you don't need any internet connection to use it. As long as you are willing to make recovery the biggest priority in your life then you CAN recover from bulimia. Remember: Happiness, freedom and self-satisfaction is an undeniable right for every individual in this world. Let your healing process begin!