If you want to start working out and be healthy, you can begin by doing home workouts. You don't need to go to the gym to be healthy and it all starts with the mind. If you think you cannot do a workout, you will find ways to avoid it. With home exercises, you can boost your confidence and feel good about yourself.
It is also more affordable to do workouts at home than to go to the gym. With the right equipment, like a dumbbell set, a treadmill, and a yoga mat, you can start doing exercises anywhere.
Fitness Mania will help you get started with all your fitness goals and equipment. Doing home workouts is easy and you can start right now, just head over and follow these exercises listed in this article Fitness Workout Exercises. Also, you can buy home gym equipment to help you with all your workouts and strength training at Fitness Mania. They have listed all the best brands of fitness equipment all in one place, saving you time and money. Shop gymnastics equipment like wedges, crash pads, balance beams, training bars, and more. Shop strength equipment like free weights, dumbbells, kettlebells, resistance bands, medicine balls, and more. Also, they have cardiovascular equipment like elliptical machines, treadmills, rowers, pads and pulleys for toning and shaping your body. At Fitness Mania they promote the best brands of fitness equipment.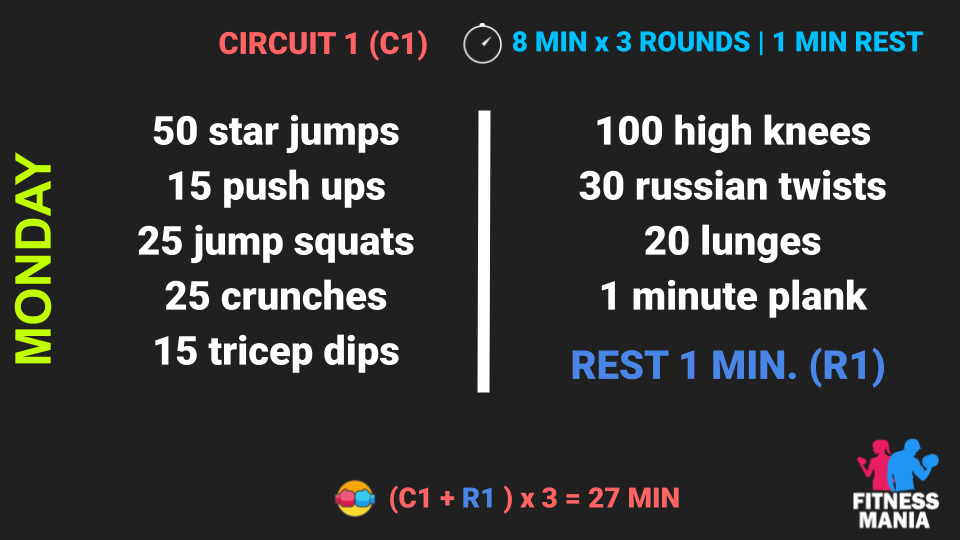 Now, if you want to be out of the home, you can also go for a walk, jog and run. Working from home can be a blessing and a curse. It allows you to be more flexible with your schedule but can sometimes lead to feelings of loneliness and isolation. Staying active at home is key to staying productive. You can focus on stretching, doing yoga or even working out.
Here are a few tips for scheduling time for exercise at home:
Schedule your workouts just like you would schedule a work meeting

Set a timer or alarm and stick to your schedule

Just 15 minutes a day can make a huge difference in lowering your risk of diabetes and improving your overall health and well-being
Start your home workout journey now and don't wait until it's too late. Do some Daily Workout Exercises
CHECK OUT THESE HEALTHY APPS
12 Min Ski Workout Challenge PRO – Fit for slopes – Cristina Gheorghisan

$

0.99

Winter is coming! Get ready for the slopes with this awesome 12 MIn Workout Challenge! The Beginner ski workout aims to focus on overall body strength and stability while controlling movements to train muscles with correct technique. It allows the body to adjust safely in a slower motion and introduces balance along with proprioception into the physical routine which are essential skills to have when transitioning to a snowboard. Ski season's here and tons of resorts in the Rockies are loaded with snow, so it's time to dig out your snowpants and rally your friends to book your annual ski trip. But while he runs are surely ready, are you? Even if you work out daily, skiing for four or five days can be ultra taxing on your muscles. Trust us. To avoid injury and misery, take some time to prepare your body before your trip. If you don't already have a regular exercise routine, it's not too late to start one. Plus, knowing you're doing it in order to enjoy your ski holiday will help keep you motivated. Start at my Beginner's Corner for general information about getting started with exercise. If you already exercise, you may need to tweak your workouts to make them more effective. Build Your Endurance If you want to get your money's worth out of that expensive lift ticket, you'll need plenty of cardio endurance. Most of us hit the slopes and plan on skiing all day, even if it's been months or years since we last skied. By afternoon, you're so tired that your legs feel like jello, a prime time for injuries and accidents happen. To prepare your heart and body for long-term skiing, your cardio program should include: 3 to 5 days each week of your favorite activity. The best for skiing include running, the stairmaster, step aerobics, elliptical trainer and rollerblading. A variety of workouts at varying intensities lasting from 20 to 45 minutes. One long, slow workout each week for 60 or more minutes to condition your legs and lungs for long days of skiing. Below is a sample schedule of workouts: Workout 1: Interval training, such as this Elliptical Interval Workout, 20 to 40 minutes Workout 2: Medium-pace workout, 40 minutes - Cardio Medley Workout Workout 3: Short, intense workout, 20-30 minutes - Sprint Interval Workout Workout 4: Medium-pace workout, 45 minutes - Basic Endurance Workout Workout 5: Long, slow workout, 60+ minutes For cardio workout ideas, visit my Cardio Index. Build Your Strength What makes skiing such a great exercise is that is uses all of your muscle groups. However, some muscles are used more than others. Those are the ones you want to concentrate on when it comes to your strength workouts. Skiing involves: Quadriceps. Probably the most used muscle in skiing are the muscles of the quads. These muscles hold you in position as you ski and they also provide protection for your knees. Great exercises for the quads include squats and lunges. Hamstrings and Glutes. When skiing downhill, you typically hold your body in a flexed position -- meaning you're leaning forward from the hips. This requires great strength from your hamstrings and glutes as they help stabilize your body. Work your hams and glutes with deadlifts, one legged deadlifts, pull throughs, step ups and hamstring rolls. More hamstring and glute exercises. Inner and Outer Thighs. Your inner thighs work like crazy to keep your skis together. Your outer thighs keep your body stable and help you steer. Work these muscles with side lunges, sliding side lunges, inner thigh leg lifts, inner thigh squeezes, side step squats and leg lifts. Calves.